RYSlongboards Ride – Your – Story
Custom made for your next adventure
Here at RYS, we are powered by the idea that every individual has a story that is still in the making. Our boards are the embodiment of that idea. Each and every one is custom cut from 100% reclaimed material and uniquely shaped to fit your riding style. Then we cover them with one-of-a-kind, hand painted graphics that are guaranteed to reflect your personality- because you help to create them. We want your board to be shaped by your story, so that your board can shape your next adventure.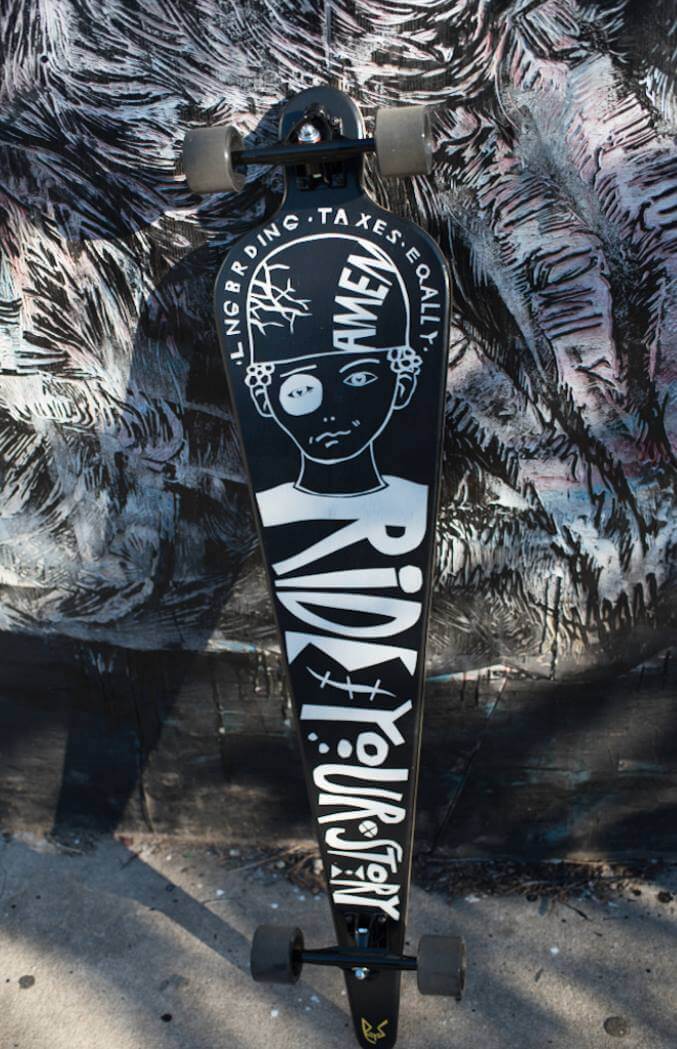 Our Story
It all started in Brooklyn, NY when Nikita – the son of RYS founders Janek and Katya Palat – was very small. Even at four years old, Nikita had an urge to explore that could not be held within the confines of afternoon trips to the playground on the corner. His parents wanted to create a better way for him to go beyond their street and experience all that life could offer in their vibrant city. The first RYS longboards were made to answer that call for adventure. It was on the gentle rolling hills of Prospect Park that Nikita first learned how to ride. It didn't always come easy for such a young kid. But the wide design of his deck offered greater stability which shortened the learning curve. And he found incentive to persevere in the connection he had with a board that was uniquely his. Family skate sessions would take the three of them everywhere- through the parking lots of mural covered businesses, to museums and dinner parties at friends' houses, and even down cacti lined country roads on family trips abroad. Eventually, people started taking interest in the funky punk graphics and beginner-oriented deck designs of the handmade boards and it wasn't long before Janek and Katya were commissioned to build custom rides for others. Before they knew it, a community had emerged in the park – a growing group of young novice riders who shared their sense of joy in the spontaneity and creative challenge of longboarding. Like those kids in the city park, each of us is still growing, still learning about ourselves – still writing our stories. For us at RYS, longboarding has given us a medium to put those stories into motion. We invite you to join our community today and Ride Your Story™.
The Designer's Story
Every RYS board is designed, handcrafted, and finished by woodworker and mixed-media designer Janek Palat. His story starts in the remote mountain region of Valachia in the Czech Republic. From the very beginning, Janek loved spending time exploring the world around him, both through creative pursuits and outdoor adventures.
At just 9 years old, Janek was on a solo hike in the forested hills near his mountain village when he rounded a corner and found himself staring face to face with a wild lynx. The big cat held his gaze for a long moment before turning and parting ways.
"I wasn't scared," Janek remembers, "I felt safe and blessed. And ever since then, I have always liked lynx... and walking my own way."
Years later, when designing the logo for Ride Your Story- the brand that was inspired by his son Nikita- Janek had a flashback to his own adventurous childhood. RYS is the Czech word for lynx. They are known for being fast, independent, and graceful- characteristics that Janek incorporates into every RYS design.
Though he left the mountains, Janek never stopped exploring. His travels brought him to Brooklyn in 2012 where he pursued a career in creative design.
"It's the challenge that I love- how to do your thing so that the other person will take it and appreciate it in an almost intimate way." That connection between the people and the product is what drives the design process at Ride Your Story.